Investment: Make an Investment
Donations are the lifeblood of our enterprise. They help us to offer small business loans and promote independence through Self-Reliant Groups. But we can't rely on these gifts for 100% of our funding.
We understand from talking to people who share our values, it's not always practical to give money without conditions. So we've set up an investment program, for anyone who can release £1000 or more.
You can invest the money with us, to continue our vital work. Then within 5 years, we'll pay you back in full…while you enjoy 25% tax relief (or more for higher rate tax payers), under the government's Community Investment Tax Relief (CITR) incentive.
CITR was set up to help people in disadvantaged communities, which perfectly matches Purple Shoots' mission to foster self-reliance. The tax relief is especially generous because investment in these areas brings clear social and economic gains.
The result is a "perfect storm" where everyone can prosper:
YOU can put your money to good use, while reducing your tax liability.
BORROWERS get the finance they need, with an ethical rate of interest.
SOCIETY gains from a growing economy, with lower dependence on welfare.
IT'S ALL EXPLAINED IN OUR INVESTMENT GUIDE
CITR is jointly administered by HMRC and the Department of Business Innovation and Skills. We've summarised the key points in a short, simple guide that you can Download here.
Please read this in full, and seek independent advice, before you commit to an investment.
Then when you're ready, just get in touch here…and we'll call you to discuss the next steps: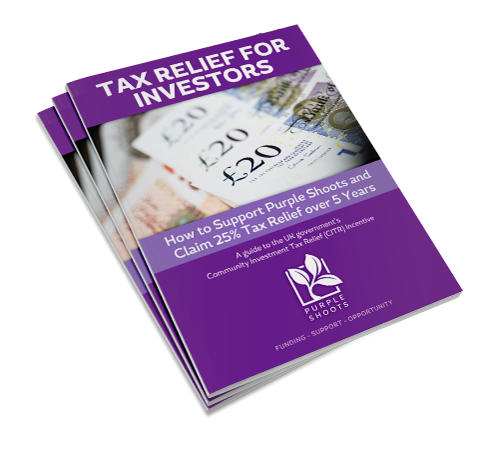 ASK ABOUT INVESTMENT
Need More information?