Dear Friends and Supporters,

Another 6 or 7 months have whizzed past and my plan to send quarterly newsletters still isn't working. However, if you follow us on social media you might have seen our weekly news updates which we introduced a month or so ago. These are giving lots of good news stories much more regularly. Search for Purple Shoots on LinkedIn and Facebook.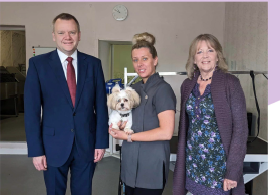 In the last 6 months, we have seen steady growth in our loan numbers and in our self-reliant groups.
Some highlights:
England lending is growing rapidly – attempts to contain it within South Yorkshire and the West Country have been more or less abandoned as we are receiving enquiries from everywhere – loans have been completed in Norfolk, Derbyshire, Merseyside, Glasgow, Essex … the demand is clearly huge so we are focussed on raising more capital to meet it. We now have team members based in Lincolnshire and Gloucestershire, as well as in our main base in Sheffield.
Our first international gathering of SRGs is happening in Manchester in June, bringing together some of our group members with members of Manchester and Leeds groups and a group visiting from Rotterdam.

Our 10th-anniversary celebration is organized and booked for Friday 20th October in Newport Market which is an unusual and attractive venue. Invitations are coming out soon and details will be on our social media networks.

Another very successful 20 days at Cardiff Christmas market (we'll be there again this year)

With three Welsh speakers now on the team, our entire website is now available in Welsh, we are tweeting in Welsh and attending and speaking at some events in Welsh! (Thanks to Owain, Meg and Sarah)

We have been working closely with the Centre for African Enterprise to support refugees and people from ethnic minorities and together we are promoting "The Welsh Dream" – a bit like the American Dream – defined as "The vision that anyone, regardless of their birth or social class, can achieve their own version of success rooted in Welsh community and culture". We now have an SRG made up of Ukrainian refugees.

The Zero Interest Loan Scheme launched
(quietly) in January. This is a Government backed pilot to offer personal loans at zero interest to individuals who are in danger of falling into the hands of loan sharks. We are working on this in partnership with fintech Plend and Robert Owen Community Banking. We have some reservations about its likely success but it is early to judge.

We have had some good opportunities to talk about our work and the issues our clients face throughout North and South Wales and in England at various events, Government committees, universities and colleges and recently with the Centre for Social Justice, with whom we are partners again this year. We also had a visit from the Bank of England's Chief Economist where we organized a small group of our clients to talk to him about the economy from their point of view – he made a lot of notes!

We are now members of the Inner Development Goals UK Capacity Building Network. This is made up of other like-minded people and organisations and is an exciting chance to shape the work that we do at Purple Shoots in an internationally recognised framework. The Inner Development Goals
(IDGs) are the skills and qualities needed to achieve the UN Sustainable Development Goals. They were identified in 2019 by a collaboration of international academics, businesses, charities and other organisations led by the Stockholm School of Economics. IDGs are the individual and collective skills needed to achieve real change in society. They also develop skills and qualities that are important to general well-being and for empowering individuals to live satisfying lives. The five IDGs are an exact fit with what we are doing through our SRGs.

Some great new partnerships are developing and continuing for our work building self-reliant groups. We are excited that our partnership with Church Action on Poverty has given us an opportunity to reach many potential church partners around the UK, and our partnerships with individual churches, Housing Associations and other organizations are going well. Our first SRGs in Yorkshire have started with our new partner there Kaleido.
To read the full newsletter, click the link below.
Thank you to everyone who follows and supports us!
Karen Davies