Purple Shoots has recently been on a trip to Uganda to see how self-reliant groups and microfinance operates there. We took with us a small group of representatives from our self-reliant groups and the aim was to inspire them with what they saw out there and to develop links with the groups we met.
The trip was organized and partly funded by the charity PONT (Partnerships Overseas Networking Trust) and the Wales Africa Fund. PONT is an organisation which has forged strong links between Rhondda Cynon Taff and the Mbale area in South East Uganda. PONT's aim is to tackle poverty and improve healthcare in the Mbale region by twinning organisations in RCT with their Ugandan counterparts. Over the past decade, more than 1,000 visits have been made to Mbale by people from RCT thanks to the connections created. Schools, hospitals, churches, business, the university – all have links with their counterparts in Mbale.
Our visit was to the Mbale Coalition Against Poverty, a group of small NGOs working to tackle poverty, including developing what they call self-help groups in the rural communities surrounding the town. We wanted to meet their groups and hear from their members first-hand how they worked and how they benefitted from them.
The Ugandan groups operate largely in the same way that ours do – their members commit to the group, meet regularly and build up friendship and trust between them. They share skills with each other and the supporting NGO provides specific training on a range of things if they request it – Purple Shoots offers this to our groups too. The Ugandan groups save together weekly and members of the groups are able to borrow from this savings fund, to help them through crises, to fund their children at school etc– and they repay through the income generating activities which they undertake. Some of them start their own small businesses.
For example Nabumali is one of the hardest to reach and poorest communities we visited. There are a number of groups in this community with a mix of genders, ages, religions and including some disabled people. They confirmed that between them they have savings of over 2.5million Ugandan shillings (a lot for them) and in the last year had undergone training on a wide range of issues including leadership, business skills, family nutrition, sanitation and human rights. 65% of group members are running small businesses – selling fruit and other agricultural products, quarrying, making bricks, sewing, baking, weaving etc. Children are also involved in the savings and the women aim to involve them in their businesses in the future.
The groups have reached out to lonely, depressed and struggling people and draw them in. Jennifer, for example, was making a few pancakes and trying to sell them on the streets – as a group member she has turned that into a business which produces larger quantities and sells through a number of outlets. The groups said "We will kick poverty out of Nabumali!"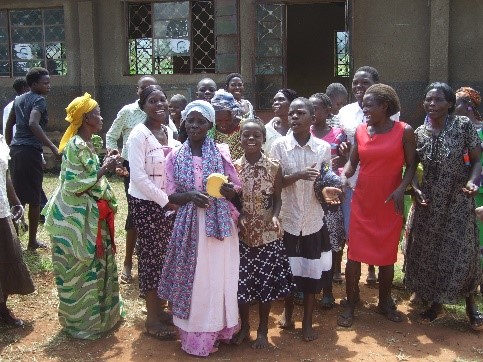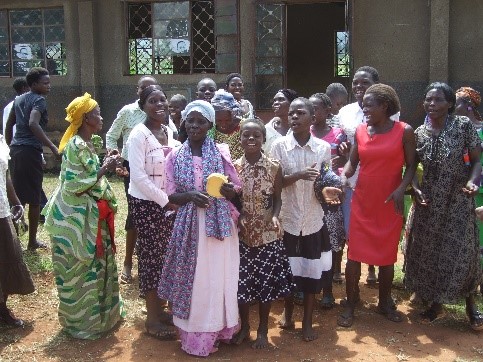 The Purple Shoots groups also save into a fund, and most of them work together on income generating activities of some description – proceeds from these also go into group funds. The combined funds are then available to develop the activities of the group – to pay for training or to develop their businesses and also to lend to group members if needed in a crisis. This keeps them away from predatory lenders who are often their only option. Purple Shoots itself will also lend to a group or to individuals from a group to help them start a business. In Mbale, although there seemed to be microfinance organisations available, all lending to groups and group members was done informally through the groups with group funds. They said that local microfinance organisations were too expensive for them.
The lending within the groups seemed to work well because a relationship of trust and respect had grown between group members and they knew and understood the detail of each other's circumstances. There seemed to be few instances of people failing to repay, although sometimes there were delays – but as they all lived in the same community, it would be difficult for delinquent borrowers to disappear.
The savings and loans had had transformative effects on group members. In Mwanda community, we were impressed by three women in particular:
Lorna: Before she joined the group, she made as much as she could sewing and mending on the roadside. One of the group members invited her to join and she began saving. She borrowed money to buy more materials and started making school uniforms which she was able to sell. When she has accumulated more savings, she plans to buy a second sewing machine, take on some of the young girls who drop out of school and train them to sew, and train other group members for a fee, and then grow her business so that she and the other group members can make uniforms for many schools and other clothes to sell.

Suzanne's story is similar to Lorna's. She wants to work with her to design clothes for the group members, the community and others to buy.

Rebecca: She said she was isolated and alone before she came to the group and now her life has improved – she appreciates the wisdom and support of the older women in the group and through the group she has a goat which produces milk and earns an income for her. Her long term plan is to save and earn enough to buy her husband a motorbike so he can earn as a boda-boda (taxi) driver.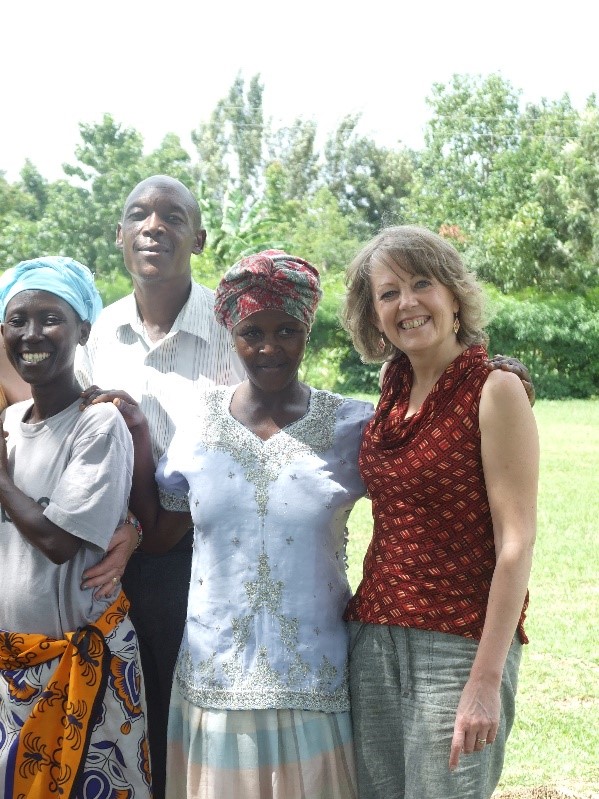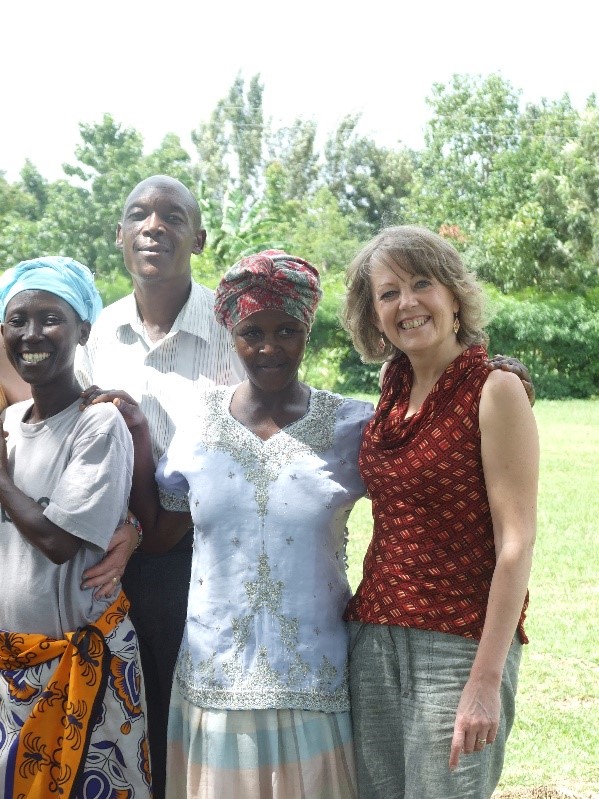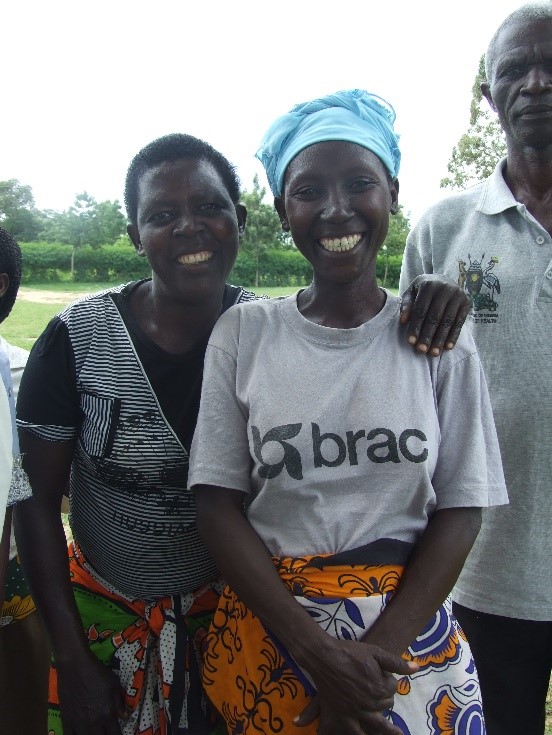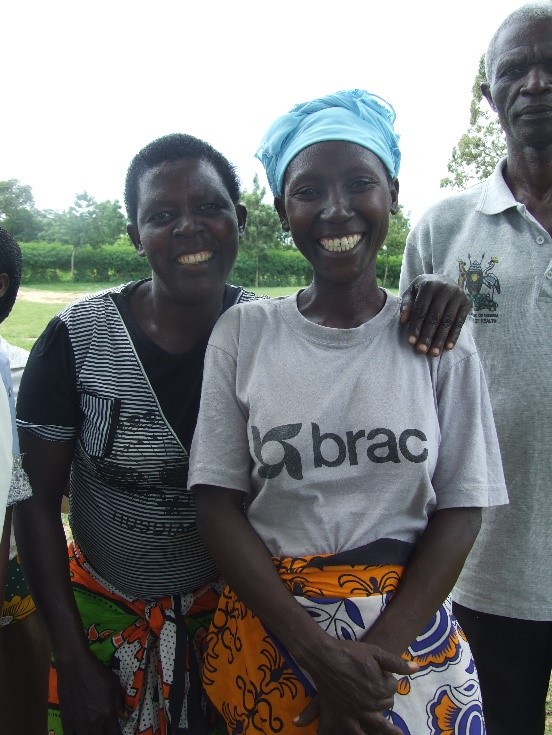 These three women are proof of our belief that there are many talented and entrepreneurial people hidden behind poverty who just need a little help to enable them to flourish and reach their potential. We seek to do this through both our individual loans and our self-reliant groups which follow this model and we want to change society's view of people in poverty which is that they are weak and vulnerable, to seeing them as resourceful producers.
We saw two examples of whole groups going into business together:
The Musoto Community. This is a self-help group of people who are HIV positive – making a wide range of beautiful handicrafts which are sold locally (and available through Purple Shoots). In their own communities they are ostracized – but in this group they find friendship and acceptance and a means of survival.

Mbale United Association for the Disabled. This group, all people with disabilities, runs a small business making heavy duty bags and tarpaulins. They have contracts with international companies. People seek them out because they are good at what they do. The business earns them a living and they pay themselves equally. The group support each other and succeed against all sorts of odds – a building riddled with termites, machinery which is unusable because it needs parts they don't have, insufficient stock and poor equipment for themselves (broom handles for crutches, no wheelchairs). Their best quote: "Disability is not inability"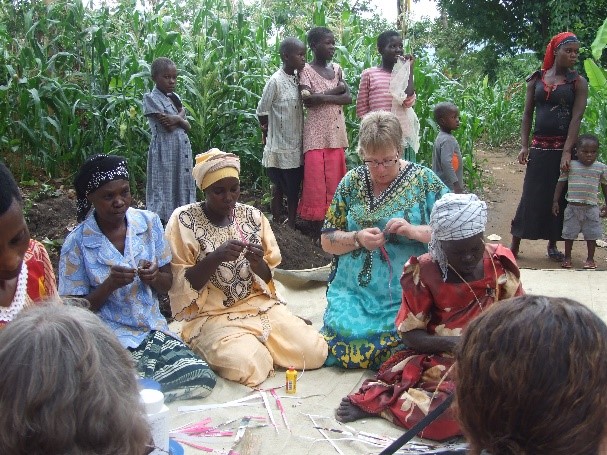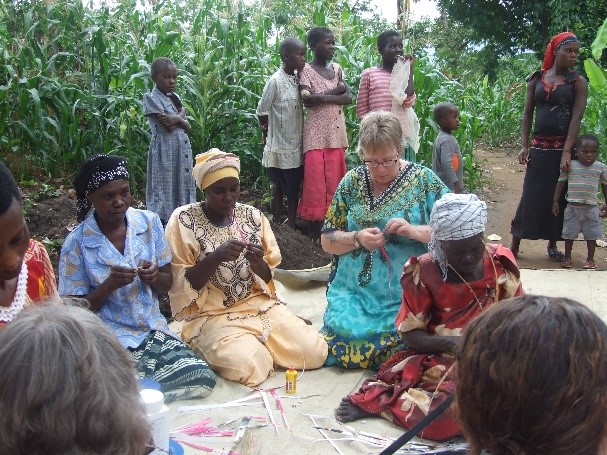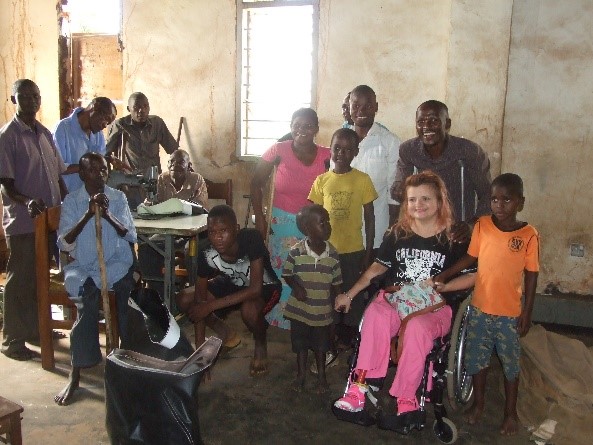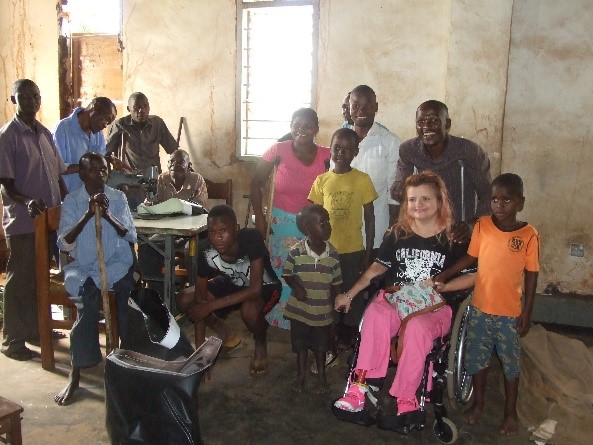 In the UK, it is a bigger ask for a small business to support a whole group of people – but of course that depends on the business and Purple Shoots has at least a couple of their groups who are moving in that direction.
The SRG members I took with me were indeed inspired by the groups – their courage, determination, their achievements sometimes against terrible odds and their ingenuity and resourcefulness in the businesses they have established. But on a different level, they connected with them simply as other women, as friends, often tackling the same issues as them, albeit in a very different culture and circumstance – how to make ends meet, how to stretch few resources, wanting the best for their children and families, coping with bereavement, depression, isolation. In all this, their self-help groups played a hugely supportive and liberating role, and they gradually achieved a level of economic independence which they didn't think was possible at the beginning. One of their best quotes was:
"We start with the little we have, and we build."