Dear Friends and Supporters
The 6 months or so since the last newsletter have flown by and a lot has happened. One of the biggest changes was that after camping in a shared office in a church for 8 years, we have taken on our own building. It is across the road from where we were in Pontypridd, in the town centre.
There is a shop front where we are showcasing and selling products made by our borrowers and self-reliant groups, a large meeting room where we are running workshops and events, an office and kitchens etc. It has provided much needed storage space for all our course materials, papers etc and a meeting hub for our team, our self-reliant groups and others. The local community have been interested and welcoming – and pleased to have another independent shop in Pontypridd.
We had an opening day at the beginning of November – and everything to get us there was done by our borrowers or local small businesses(carpet by Brian Glover, signage and internal wallpaper by Touch Graphics, telephone and wifi by Cardiff Computers, carpentry by Y Gweithdy, shop design by our SRG members, balloon decorations by Sam Noble and cakes served at the event by Miss Tilley's and St Catherine's café).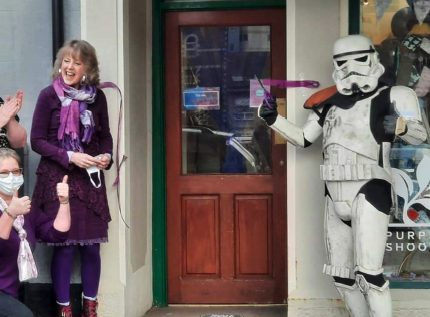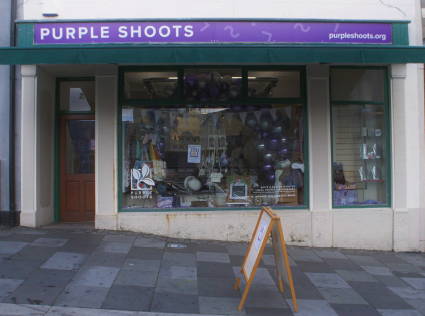 We have plans for activities there throughout the year. The owners of the building have been very generous – because they wanted their building to continue to be something positive in the town centre.
In August we received a further generous donation from the Moondance Foundation which has topped up the Purple Moon Fund and enabled us to meet the high demand for loans. The infographic on the next page shows a summary of our lending for 2021, and there are some stories included in this update too (many more on our website).
We have also entered an exciting new partnership with Plend, a new Fintech company who have built a new credit underwriting engine which blends data from open-banking and credit bureaux to produce a score which is much more meaningful than standard credit scores and is aimed to help people who struggle to get affordable credit by analysing them in a much fairer way. From our point of view, the system is going to give us much better data about our clients and will hopefully enable us to make better informed loan decisions, and could in the longer term, increase the volume of loans we are able to make without losing the critical personal interaction with our clients….
Thank you to everyone who helps us keep going.
Karen Davies