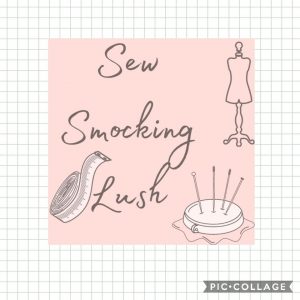 "Keep on Carrying On" Laura Evans – Sew Smocking Lush
Laura has suffered with her health, which has seen her struggle through her chaotic life with undiagnosed bipolar, and as she says her life was a "shambles!". Getting the right treatment and help has seen her recover and become able to rebuild her life to a much more stable situation. Laura is a single mum and is co parenting with her ex in Port Talbot. She felt that running a clothes business from home was something that she wanted to do whilst enabling her to be there for her children. 
So she put the skills she learnt in her early career to best use. She has experience in retail on the high street and she has a national diploma in fashion and clothing  (where she learnt about predicting trends, design, pattern cutting and hand sewing techniques). From that came her wish to start a clothes business. She likes to dress her children nicely and so she decided to set up a children's hand sown smock business. 
Laura says: "I want to be a positive role model for my children, to show them that you are never too written off to make something good of your life and that you don't have to be defined by the mistakes of your past."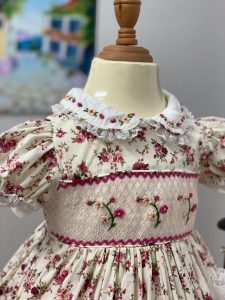 Sadly, all her life issues that she has had to deal with, impacted on her finances and that meant that high street lenders were not prepared to help her. She was on benefits and through working with Business Wales she was introduced to Purple Shoots. 
Laura says – "I am really pleased with the help and support from Purple Shoots. I wouldn't have been able to make any of this a reality, not just from a funding point of view. But having someone hear your idea and read your business plan and them not laughing cos the idea is unobtainable, gives you that belief in yourself especially on difficult days when you're full of doubt and thinking what have you done. It is reassuring to know someone else believed in you and your idea enough to help you get started and that helps you keep on carrying on. "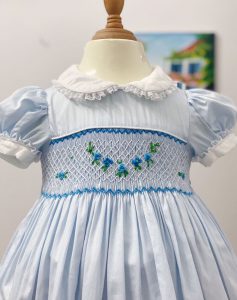 Purple Shoots was impressed with Laura's commitment to build a sound financial future for her children and with her desire to set up a business. The loan helped her to get her initial stock and to set up Sew Smocking Lush as a sole trader business. She was able to set up her business in January 2022 after some some delays in getting all the stock delivered.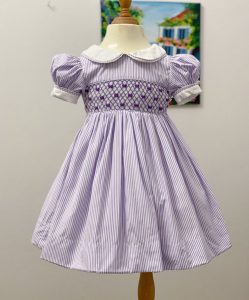 Laura has started with her personalised hand smocks for children. Moving forward Laura has plans to use local sewers to hand stitch the garments and add personalised embroidery. 
She hopes to attend local markets and fairs and she is currently setting up an online store through Sum Up. Her clothes are also available for sale on her Facebook & Instagram sites – 
You can find Laura's clothes for sale on FACEBOOK  –https://www.facebook.com/sewsmockinglush 
INSTAGRAM  – https://www.instagram.com/sewsmockinglush/?hl=en 
SUM UP –  https://sew-smocking-lush.sumup.link/
What about you?
If you need help to keep on carrying on why not chat to us and see what we can do?