Kayleigh tells her own story:
"I have suffered with mental health since the age of 17. Finally at the age of 22 I was given a diagnosis of EUPD (Emotionally unstable personality disorder). Mental health took over my life for a long time, until I met my husband. Things were going great until I took a hit to my mental health and struggled again after a miscarriage, in and out of the psychiatric unit. Thankfully I have made great progress in my recovery. My 2 beautiful daughters have helped massively as well as my husband. I have a brilliant support network now which is great, and the reason I managed to get to where I am today.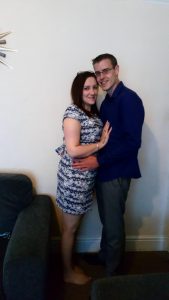 Whilst I was pregnant with my second daughter (during covid), I was advised to shield due to being type one diabetic, but unfortunately my workplace wasn't willing to keep my job open for me to return once I'd had the baby. This left me in a vulnerable position as my husband wasn't working due to mental health also. When I had my daughter, that's when I decided I wanted to finally fulfil my dream of having my own nail business. So, I did the courses and training and I'm finally doing it!! I have always had a passion for nails. I'm not the typical girly girl type but have always been into keeping my nails in good shape and looking good. I offer my services from home as it is the perfect solution for me to be able to continue looking after my husband and children. Working from home fits in perfectly with my lifestyle.
My business, Nails by Kayls, is doing well in my first few months of trading. Without the help from Purple Shoots and Business Wales, I wouldn't have been able to do it. I am in a really good position with my business, in a much better head space with my mental health too. I'm hopeful that I will continue to build a trustworthy clientele and be able to continue offering my services. My business objective is to keep my prices low to help with the cost of living. Everything is becoming so expensive now, but I hope that my prices are low enough for people to be able to treat themselves every now and then. Sometimes a little pampering can go a long way for someone.
I would like to say a massive thank you to Owain and Karen at Purple Shoots and to Anwen from business Wales in helping me fulfil my dream. Without the help from them, I would have been unable to provide fully for my family. My goal is to be able to earn enough to support my family without the help of benefits. So again, a massive thank you to all that have helped and supported me through this journey and who continue to support me."
Kayleigh is based in North Wales and you can find her here https://www.facebook.com/NailsbyKayls92