Joshua's aim from a very early age was to try to prove that he could become successful from 'nothing' and perhaps become a role model for his family and friends in general. Joshua didn't have the best start in life and was self-harming at the age of eleven and hid this from everyone he knew. After many years of trying to deal with this, Joshua did receive help and was diagnosed with a mood disorder. Receiving a diagnosis was like having a massive weight lifted off his shoulders and as well as feeling much better Joshua was able to focus on his future too.
Joshua was also lucky to start cutting hair which was the first job he found that he really liked. This was definitely a turning point in helping Joshua find some self confidence to prove people wrong about their perception of mental health and its negative impact.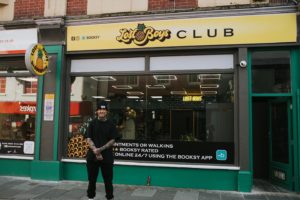 Joshua set up the Lost Boys Club barbers in 2018. It is a modern day barbershop which caters for everyone, from babies having their first hair cut to senior citizens, and especially seeks to support men who struggle with mental health and encourages them to talk. The shop became a well-known local business and featured on a number of media channels (radio, TV etc) especially for his work around mental health.
The business did well and he expanded to a larger premises but in early 2022, problems developed there with the drainage and the shop was flooded twice from the external drains which were blocked by fat coming from a neighbouring business. He repaired the damage and renewed equipment but when it continued to happen, he could no longer afford to keep replacing equipment and clean out the building so he had no option but to close. This is still an ongoing issue whilst he fights to get compensation for all the losses he suffered.
In a brilliant display of resilience, Joshua began again, took on a new premises in Mill Street in Pontypridd, aiming to re-open to his established customer base and to win some new ones. However, he had used up his reserves on repairing all the damage in his previous premises and that plus the gap after the business had closed meant that he was turned down by every funder he approached for support. Purple Shoots was happy to support him, so that he could buy the new equipment he needed and complete the refurbishment of the shop. The new shop will offer work for several other barbers as well as Joshua himself and will operate as the old premises did, using the Booksy booking system and offering a relaxed and welcoming atmosphere where clients can sit and talk through issues if they want to whilst having their hair cut.
Joshua said…
"Finding Purple Shoots was amazing. A Finance Organisation that values People, their ideas, their talents and aspirations. Receiving rejection after rejection from Lenders is heart breaking and was not dissimilar to the impact of going through all those years when my mental health went undiagnosed – it can crush your confidence. And then came along Purple Shoots who listened to me, my history and idea to restart at the Pontypridd shop. Purple Shoots didn't prejudge me but understood the challenges I had gone through in 2022 and saw my potential.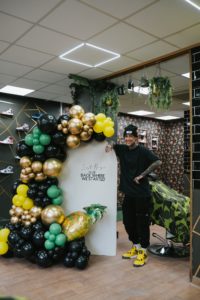 Purple Shoots were able to separate, not ignore, my credit rating and looked in a constructive and positive way at how a small loan could help me re-establish in the Pontypridd shop. In turn this could help me employ other staff too which in a small way slowly builds the local community for the better. I had no idea Purple Shoots existed and can only say that their help has been invaluable to me financially in helping to launch the new shop. This will also help me support my customers more than just cutting their hair, by helping support the other 'young Joshuas', in having a safe place to open up in and discuss their own mental health issues. Thank you Purple Shoots."