Sparkle Pro Caravan Cleaning
An unlikely success story: a business that sprung up in the leisure industry, in the middle of the Coronavirus pandemic.
When COVID-19 first hit, Ian was one of the first casualties of the economic slump. Just two months into a new job, he was laid off without furlough and left wondering how to survive the looming recession.
So with plenty of thinking time during the first lockdown, he started weighing up options: what was he good at, what caught his interest, and where could he make a difference?
He thought of caravans. He'd sold them in a previous job and loved being around the holiday industry, where he'd always enjoyed meeting new people. So he looked into the market to see what caravan owners needed most.
Answer: professional cleaning.
It's a specialist role, because caravans have their own unique cleaning and maintenance needs – so surely there'd be room for a knowledgeable firm with a passion for customer service?
It felt right, so Ian went ahead and set up the business: Sparkle Pro Caravan Cleaning.
All he needed was a small loan to get started. But at first he had no joy. His regular bank wasn't lending, and as a new business he didn't qualify for the latest government funding. It seemed hopeless until he was pointed in our direction.
We quickly approved a loan of £3000 as a down payment on a logoed vehicle. Then, armed with tools and leaflets, he hit the caravan parks, using the sales skills he'd built up over the past two decades.
He went door to door – and much to his surprise, demand was overwhelming.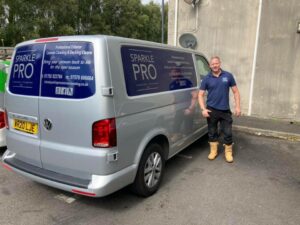 He cleaned his first caravan in July '20, just four months after losing his job. The money he made was reinvested, to buy better tools and more marketing materials. He was on his way.
Within two months he'd cleaned over 75 caravans, and every single one rebooked for the next year. Soon he had pages of 5-star reviews online. Word was spreading. He even took on temporary staff, promising 16 hours a week with scope for full time work.
As Ian recalls "I didn't expect to be that busy that soon!"
Of course, it doesn't end there. Caravan cleaning is a seasonal industry, where demand peaks in the summer. So autumn brought a new challenge: how to survive when it all goes quiet, and get ready to exploit the next boom when the parks reopen?
So Ian began making new plans:
• How to stay in touch with his customers and generate referrals.
• How to diversify, by cleaning inside as well as out.
• And how to stay busy in the off-season, by deep-cleaning static accommodation like holiday chalets.
There are challenges ahead for Ian, as for any new business, but this goes to show what people can do, even when they start with nothing but passion and a strong idea. Ian is making incredible inroads at the most challenging time. And yet, without intervention, his business would never have made it off the ground.
"I'm so happy having my own business, knowing I've made that step to do something of my own. There's a long way to go, of course, but it's all going in the right direction. I'd recommend Purple Shoots to anyone who needs help getting started."
Ian Thomas https://sparkleprocaravancleaning.co.uk/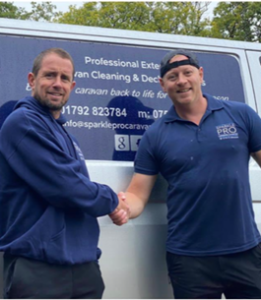 ​