Hayley describes her journey in her own words:
I am Hayley Burford, I set up 'Hayley Burford Dog Grooming' a 1:1 dog grooming business I have been able to get up and running with a great client base thanks to Purple Shoots.
A year after welcoming my second child I was ready to return to the world of work. Self employment appealed to me due to the flexibility that comes with being your own boss and therefore being able to fit it around family life. I had completed a dog grooming course as well as a dog training skills and dog walking course before covid-19 hit and wanted to return to what I knew. I had been made aware of Purple Shoots by Business Wales who advised me to apply, I had nothing to lose so I did- I'm very glad I did too!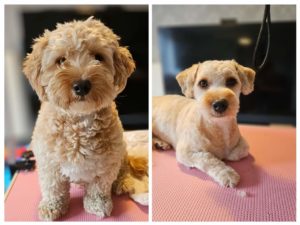 Mike has been incredibly helpful since day one and thanks to Mike and Karen I was able to secure the money for the heavy duty equipment that my business relied on to succeed. There was no other option for me financially due to the way the credit system works.  I would never have been able to get up and running without the work they do.
My small business is now thriving and I now have a long list of regular clients. Word of mouth is a powerful tool in business! Consequently, I have required an extra day childcare to accommodate my clients and Mike was able to arrange a 'top up loan' so that I could do this. Able to meet demand, I am able to do something I love and earn a decent living.
I am currently focused on Asian fusion grooming and developing my skills in this area. With the massive popularity of poodle mixes this is something most owners are looking for and is not available in this area.
Looking to the future, September 2024, my youngest will be in full time school. I am currently researching what I can do to expand my business when the time comes. I would like to be able to eventually purchase a grooming pod (so I don't have to groom in my house) and enter competitive grooming. I am also interested in completing a degree in canine behaviour and training to be able to expand my business to offer training services.