Giulia originally worked in hairdressing & beauty therapy with all her qualifications before starting a family. Following becoming a widow she was suddenly a single Mum with 4 children, so on returning to employment Giulia wanted work where she could control the hours. Having completed her aesthetics qualifications which she really enjoyed, she decided to combine that with her hair & beauty skills. Having spent her whole life in Bangor she was pleased to find a room at the local surgery that was convenient to the schools and also close to her parents for child care.
To start a business, Giulia needed funding to enable her to pay the initial room rent, to get all the equipment she needed & also the stock for her treatments. Having had a period of looking after her family and caring for her husband prior to him sadly passing away, her finances were not suitable for any traditional lender to be able to assist. She was introduced to Sian Jones of Business Wales by the DWP & Sian helped her to look at business planning. Through Sian she was delighted to be introduced to Purple Shoots.
Giulia was able to talk to Mike from Purple Shoots and said she was pleased that he was understanding and sympathetic towards her situation. She was able to discuss all her business requirements and also to go over how the business would run. She said "he actually seemed impressed that I wanted to do skin care and aesthetics in a clinical setting and to be more professional, and not just setting up a standard beauty salon, adding many more services than just doing hair!"
With Purple Shoots' help Giulia was able to sign a lease on 26th October 2021.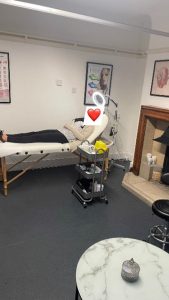 Giulia said she was so pleased with Purple Shoots as this enabled her to get her business off the ground. She said: "To open ALCHEMY has been my forever dream and I am delighted to do so in my home town of Bangor. The word ALCHEMY means "transformation". After each treatment I want you to feel transformed and wonderful both inside and out. I am fully insured, trained and experienced in all the treatments I offer, including complications management. I only ever use quality products sourced from trusted suppliers, giving you the best result and a safe experience.
My future plans are to rent another room, so I will have a salon for hair and my clinic to do my aesthetics. I have also booked to go on the advanced dermal filler and advanced botox course to expand what I can offer & to keep abreast of rules & best practice."
Giulia's business details can be found online at https://www.facebook.com/Alchemy-Skincare-Hair-and-Aesthetics-100379775751427
Alchemy Skincare, Hair and Aesthetics is located at The Glanfa Surgery, Orme Rd, Bangor LL57 1AY
& can be contacted on alchemyskincareandaesthetics@yahoo.com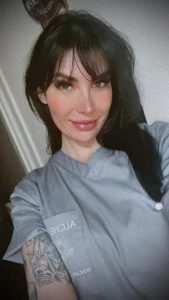 These are some of her customer reviews:
"Absolutely made up with my hair and the results. I usually stick to a hairdresser in Manchester but came to Giulia last minute. And she's got the colour back in perfectly! Natural hair experts. Beautiful results. Affordable haircuts. Expert colouring. Experienced stylists. Master stylist. Great haircuts. Last-minute appointments. Great blowouts. Amazing results."
"Just had my lips done for the first time and it was a lovely experience! I'm super happy with the outcome, beautifully natural. Wonderful service, definitely using again in the future "
"Giulia has been doing my hair for about 10 years now and I am always happy with the results, she puts so much effort and time in to it. I recently had my eyebrows tinted with her, Giulia always gives such honest professional feedback to ensure I get what suits me. I am looking forward to having more treatments with someone I trust again soon. "
"I came to Giulia wanting to improve my skin texture. I had some acne scarring so she recommended 'microneedling' I've only had the first of three procedures and already I see a difference! Giulia is very professional and information and put me at ease. I will be returning to Giulia for more treatments "