Catherine has owned dogs all her adult life. When her Springer Spaniel, Bracken, suffered intermittent lameness following a fall into an iced over lake, Catherine set out to find a way to help relieve his discomfort, rather than just mask it with the pain medication he had been prescribed. That is when she first encountered Canine Massage Therapy.
After attending the 'Beginners Guide to Canine Massage' with Natalie Lenton of the Canine Massage Therapy Centre, Catherine began to see a positive improvement in Bracken's comfort. To Catherine, who at the time had no experience of massage and it's many benefits, the results were outstanding.
Catherine was, at this time also looking to return to work after a period as a full time Mum. Following much research, she decided to apply for the 2 year Clinical Canine Massage Practitioner Programme; a rigorous and extensive course, provided by the Canine Massage Therapy Centre and externally accredited by Lantra.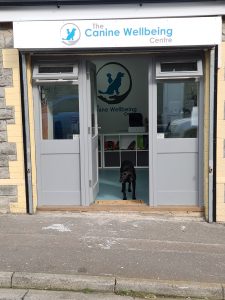 Since completing the course, Catherine has not only started her own business improving the lives of dogs through the medium of Clinical Canine Massage, but has developed a real passion for learning and evolving her skills. As a member of the Canine Massage Guild, she commits to a minimum of 25 hours Continuing Professional Development a year, but often finds herself doing far more hours than that! In 2019 Catherine became a Reiki Master, and uses Reiki regularly with dogs, to which she has a great response. She also hopes to become a Canine Conditioning Coach, completing the instructor programme with the Canine Conditioning Academy this year.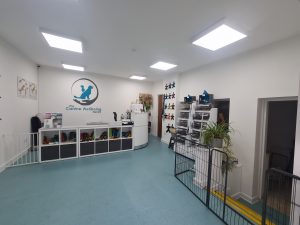 Her passion for holistic canine care using scientifically proven methods shines through, and it is clear that she really takes pride in her work, giving her upmost to improve the quality of life of the dogs that come into her care.
Until recently Catherine worked from home, with a small online shop linked through her website selling joint supplements, herbal products and natural treats, mostly to existing customers. This worked well, but Catherine wanted to expand to enable her to help even more dogs. An advert popped up on her Facebook feed for a small, local premises that had become available. A viewing was arranged, and for Catherine it was love at first site. The unit, although modest in size, was perfect for her vision. It was somewhere she could treat dogs and have a larger retail presence within the community.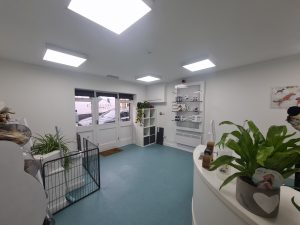 Sadly, as a newly single mum without a stable full time salary, Catherine knew that she would not be able to gain the funds she needed for her new enterprise from traditional lenders. After further research, including speaking with other local entrepreneurs, Catherine found Purple Shoots and immediately completed their initial application form. From there, the process was easy, especially with the help received from the Purple Shoots team. This enabled meetings to be arranged and the lease agreed and signed.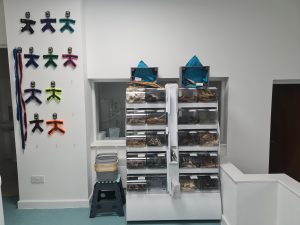 Catherine very proudly opened The Canine Wellbeing Centre, in Barry on the 1st October.
Catherine can be contacted on –
Through her website- https://caninewellbeingwales.co.uk/
https://www.facebook.com/cardiffcaninemassage/
Or at the shop for an appointment to have your canine treated.
She is registered as a practitioner with – the K9 Massage guild
& shortly also to be with – Canine Conditioning Academy