Lisa and her husband live in PenyGraig near Tonypandy in the Rhondda Valley and had a "normal" family life with 4 children and her husband in a steady job, until their youngest son developed a brain tumour a few years ago.
Spending weeks at his bedside whilst he battled with his condition, and frequent returns to hospital on a roller coaster of recovery and relapse placed great stress on the family. Lisa couldn't work and in the end her husband lost his job because he needed so much time off with his son. Reduced to living on benefits, this led to a downward spiral financially, on top of all the other stresses.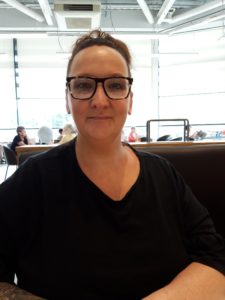 Although not fully free of tumour, Lisa's son has recovered and is back at school and determined to make something of his life, believing that all his difficulties have made him a stronger person. Inspired by that courage, Lisa decided to fulfil a long held ambition to open her own cake business.
She had always made cakes for friends and family and her skills were in demand so she thought she could make a business from it – and create something which could be a future for her son as well. She found the ideal premises in PenyGraig High Street – but needed a little finance for equipment and display cabinets. Unfortunately, their recent financial struggles meant the family credit score was poor and she could not get support from anyone. However, then she met with Purple Shoots who did provide the small loan she needed and the Cake Station opened at the end of October.
All the cakes she sells are made by Lisa – and her reputation is such that she sells out most days. She has even been visited by a well-known Welsh chef who declared her cakes to be the best he had ever tasted. Lisa also does celebration cakes and commissions, or "TV evening" or "romantic nights in" cake boxes. Lisa says: "My life has changed so much – I am enjoying every minute of being my own boss."