Amanda Wood came to Purple Shoots to ask for support when she decided to change direction with her career and lifestyle. Up until Lockdown in 2020, Amanda was living in Plymouth and was working as a programme manager at a College leading and delivering a project which supported local creative business and artists in collaborative projects with students. Amanda's insight into business start-up and growth would soon become important in her own career route.
It was after her two children left home to study degree's at UWE and Kingston-Upon-Thames, that single mum Amanda knew that it was time to rethink her career; her fixed-term employment contract was coming to an end and the pressure of finding work in a similar role was causing her anxiety and stress knowing that really, she wanted to make a career change to compliment the holistic lifestyle she was crafting. However, with rent and bills to pay and with no savings to support her, meant that Amanda needed to come up with a plan to break the cycle of working to survive and then feeling depressed and undervalued.
It was in the summer of 2019 that Amanda met her current partner while volunteering at the Beautiful Days festival in Devon. For Amanda, it was working in the outdoors and feeling part of a community that made Amanda content. It was soon after she decided to give notice on her flat so that she could lodge with a friend to help save some money to make the lifestyle change she desperately wanted. However, in March 2020 Amanda fell ill with Covid-19. She was about to move out of her flat, but things had to be put on hold. Her partner joined her from his home in South Wales and the pair went into isolation together so he could look after her. With news that educational establishments would begin to work remotely, plans changed quite quickly. Amanda moved to be with her partner in Penarth while she continued to recover from the virus.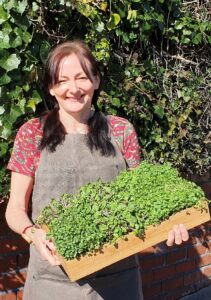 It was during this time, working at her laptop looking out at the garden, that Amanda realised what her life was lacking. When Amanda left school, she went on to study Horticulture and then Floristry for many years until she went on to follow a creative career route in education. Amanda knew she wanted to revive her horticulture skills so decided to grow sprouting seeds on the kitchen windowsill. Quite quickly she brought the outdoors indoors and produced nutrition-packed home-grown salads in no time. This was the critical moment when the penny dropped, and Amanda realised what was soon to become a viable business idea. By the time Amanda's educational job came to an end in September 2020, Amanda had her business plan underway. Amanda was going to set-up a Micro-greens farm from her new home in Penarth trading as The Micro Greengrocer. Unable to receive any benefits because of living with her partner, Amanda knew she needed to work fast to get a business off the ground and making money.
Amanda spotted an advert on social media of the support Business Wales was offering to start-up businesses, which was exactly the support Amanda needed. With their help and guidance plus all her own knowledge, she was able to shape her business plan and start looking for financial support. The little money she had saved had been spent to support her during her period of unemployment and to buy the equipment and materials she needed to test out her growing techniques of the specialist greens she was going to sell.
Business Wales suggested she contact Purple Shoots to seek further support and finance. After researching the support on offer from Purple Shoots, and reading the testimonies on their website, Amanda knew it was exactly the organisation she wanted to connect with. Amanda especially liked the ethos and ethics which drives Purple Shoots; the sense of community and sustainability, and helping people get back on their feet.  It was very different to approaching a corporate lender.
"I really liked that Mike called me quite quickly after I made contact with them. We were unable to meet in person due to restrictions but that didn't stop the flow and we chatted about life and my business idea to great lengths in a really friendly relaxed manner. I felt totally at ease sharing my history and my ideas with him. I felt that he cared about what I was trying to do. Mike told me about the different Purple Shoots groups I could join to meet similar business-minded people and of the other groups which Purple Shoots are involved in. Like with Business Wales, it was so refreshing to have this kind of support. To hear I was able to receive a small business loan from them, especially because of my adverse credit history, really made me feel that Purple Shoots saw the potential in my business idea and in my competencies to make it happen. They gave me a chance to change my life. I feel blessed that I have their support through my start-up…and hopefully beyond."
The Micro Greengrocer is a small urban farm which will supply local restaurants, eateries and health food stores with a home delivery service available on the day of harvest each week. All seeds are organic and are grown in peat free Welsh organic composts. The crops are grown under precise conditions and no pesticides or fertilizers are used. The Micro greens are high in nutrients, which makes them a superfood, they can be used in salads, soups, shakes and as a garnish. Amanda also plans to sell her produce at local farmers markets once restrictions change.
"I am running my business as sustainable as possible, even my packaging is plant-based and fully compostable. The range of Micro-greens I am growing not only look nice, but they have so many different flavours and with their high nutritional content make the perfect health boost. What's not to love about Micro-greens?"
A percentage of The Micro Greengrocers profit will support both The Trussell Trust (UK Food Banks) and WOW (Supporting marginalised women in Mozambique in perma-garden training projects)
Amanda's business The Micro Greengrocer will be trading from 1st March 2021, which coincidentally is St David's Day. Amanda comments "I can't think of a better day in the year for a new Wales based business to start trading." You can find out more about The Micro Greengrocer online www.themicrogreengrocer.co.uk which will guide you to her social media sites.